Hannah Traore on her journey to start an art gallery
Bronwyn Hunter-Shortly on August 25, 2022
As we approach the launch of Peggy, we're thrilled to give everyone a sneak peek into some of the Pegcasts that will be live on the app.
Bronwyn Hunter-Shortly, VP of Art at Peggy, chatted with Hannah Traore about her journey in the art world, including growing up surrounded by art, opening her gallery, and working with living artists. They also chatted about accessibility in the art world—a topic that's also important to Peggy.
We hope you enjoy the interview!
---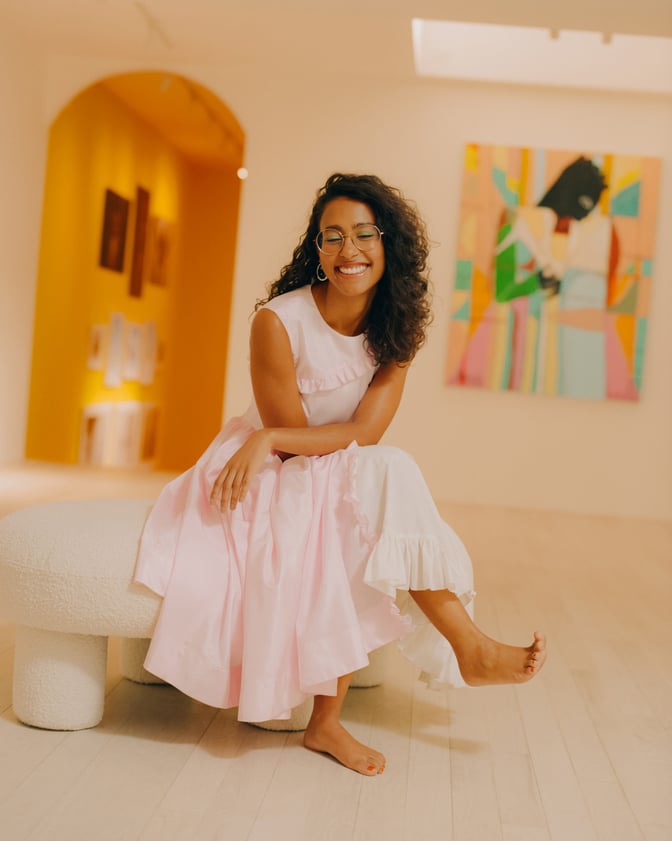 Hannah Traore. Credit Kinfolk, photograph by Emma Trim.
---
Bronwyn Hunter-Shortly: Hannah, thanks for chatting with me today. I'm really excited to discuss your background and how you got started in art, as well as learn a little bit about your journey along the way. Do you wanna start by telling me how you first found art and started your gallery?
Hannah Traore: So my introduction to art started in Toronto with my mother. She really pushed me and my siblings toward art in every way possible. So that included going to art classes from the age that we could walk. Infusing art into everything we did, but it also meant reading books about art and going to museums all the time.
My mom sent us all to an art camp. I went for seven years. I was a metals major. I was a photography major. Then, I ended up teaching there for two years as the photography assistant. And so we just all really lived life through the lens of an art lover. My house was also filled with art. It wasn't necessarily contemporary art, but a lot of west African art that my mom had gone and bought there and collected and sold in Toronto actually. And then obviously kept a lot, which is how she met my west African father.
I went to college and I was trying to figure out what I wanted to study. I took an art history class and I remember sitting there and thinking, wait, what? This has been here this whole time. I love history. And I love art and I don't know why I didn't realize that art history was for me until I took a class. And I just absolutely fell in love.
As I grew through my art history program, I absolutely loved learning about the history of art. But to actually work with artists, I prefer living contemporary artists because that's my favorite part of curation – working with the artists and collaborating with the artists and getting a front seat to the artist's mind. So for my senior thesis, I curated an exhibition that focused on Malick Sidibé, who is a Malian photographer from the sixties who I'm in love with. I love his work, but it means a lot to me because we're both Malian. It was a show about how his work has informed contemporary artists, both conceptually and aesthetically. It was a show about living artists.
After graduation I was hired to curate a show by my mentor, Kenneth Montague, who's an incredible art collector. After that, I took a year off and then applied for an internship at MoMA. And that brought me back to New York, which was always the plan.
I was really lucky to get a job that would sponsor me as a Canadian. And that's kind of how my New York art world experience started, which was a really beautiful experience. I absolutely adored working at MoMA. I met incredible people and I got an incredible modern art education because that's something that I never really studied and something that my mom isn't too interested in.
My internship was also funded by the friends of education who we now call the Black Arts Council. I met an incredible group of people who really feel like family. And so when I left the internship, I actually joined the Black Arts Council and they have been a huge influence on my New York city life and of course art life.
After MoMA, I went to Fotografiska, which was an incredible learning experience. I was only there for three months though, because the pandemic hit. And once that happened, I was really devastated at first because I just felt like I had found a place that I was learning a ton. And my sister and my dad are very much, everything happens for a reason kinds of people. And so they said, you know, you've been wanting to open a gallery. Why don't you just do it now?
My plan was to do it in a couple years. And so I thought you're absolutely right. I started working on it right away. Fast forward a year and maybe seven months later, I opened the gallery.
BHS: Everything does happen for a reason. It seems like you have such a wonderful, supportive community, like your Toronto family and then your New York family. And I think your passion has really driven each of your moves. Taking that risk to open a gallery is so courageous and amazing. You have put on some incredible shows so far and I'm so excited to continue to watch them.
HT: It's interesting using the word courageous because while I was doing it, I didn't feel like it was like a courageous thing to do, but I've been asked, how did you have the courage to do that?
And I think it's honestly just the way that my parents raised me. They raised me to be confident about myself, but they also raised me to only say you're gonna do something if you're actually gonna do it and put as much effort and love and passion into it as possible.
The real reasons that I opened the gallery, which have been the reasons that I've wanted to for years anyways, are a couple of things. One is truly just being able to do whatever I want, because I have all these ideas that I can't necessarily implement in someone else's space.
And also don't want to give away to someone else's space anyways. But creating a safe space for artists who look like me, or even if they don't look like me or don't share the same identity as me, I can still relate to them on a different level because of the identities that I do have.
There's this understanding of otherness that minorities have. And so, even though I personally don't identify as queer, I can relate to a queer individual better than a straight white man. It was really important for me to create that space. And that was always in my mind. And that just really gave me the drive.
BHS: Art and artists are so good at presenting those messages about things that are so intimately important to them. I always find I learn so much by viewing art by people of different backgrounds and different life situations. That learning is such a magical and important experience. So I'm very glad you're creating that space for people to visit, especially in New York, where there's a lot to see and to do.
HT: Definitely. And I don't consider myself the first at all, I'm really joining a conversation. And especially in a city like New York, there does seem to be a lot more spaces like that, especially recently. So it makes me really happy.
BHS: Do you have any tips or suggestions for someone who's curious about beginning to look at art, but doesn't really know where to start?
HT: I think museums are a really good place to start, especially because there's so many different kinds of art in a lot of museums. If you go to the met, you can go and see the ancient Egyptian work, or you can go see right now there's a show on women in abstraction, but there's always a photography show. There's always a contemporary show, a show about the Renaissance. So you can explore and figure out what you're drawn to, because it's gonna be different for everybody.
But also galleries, I think people don't realize how great galleries are. First off, the art world can be extremely elitist and the gallery world might be the worst. But what people don't realize is galleries are free. You don't have to pay to go to see a gallery and see the work. You might not feel comfortable there because they might not be nice to you. The front desk people might be a little cold, but don't let that stop you. I think there's a lot of conversations about accessibility in the art world and in museums, but I think galleries are an incredible place to start because they're the most accessible. Of course, each gallery is gonna have a very different program and very different artists showing. So that's another way to really start.
---
This interview has been edited and condensed. To listen to the full Pegcast on Peggy, sign up for early access to be notified when we launch