The history of art fairs.
Bronwyn Hunter-Shortly on September 12, 2023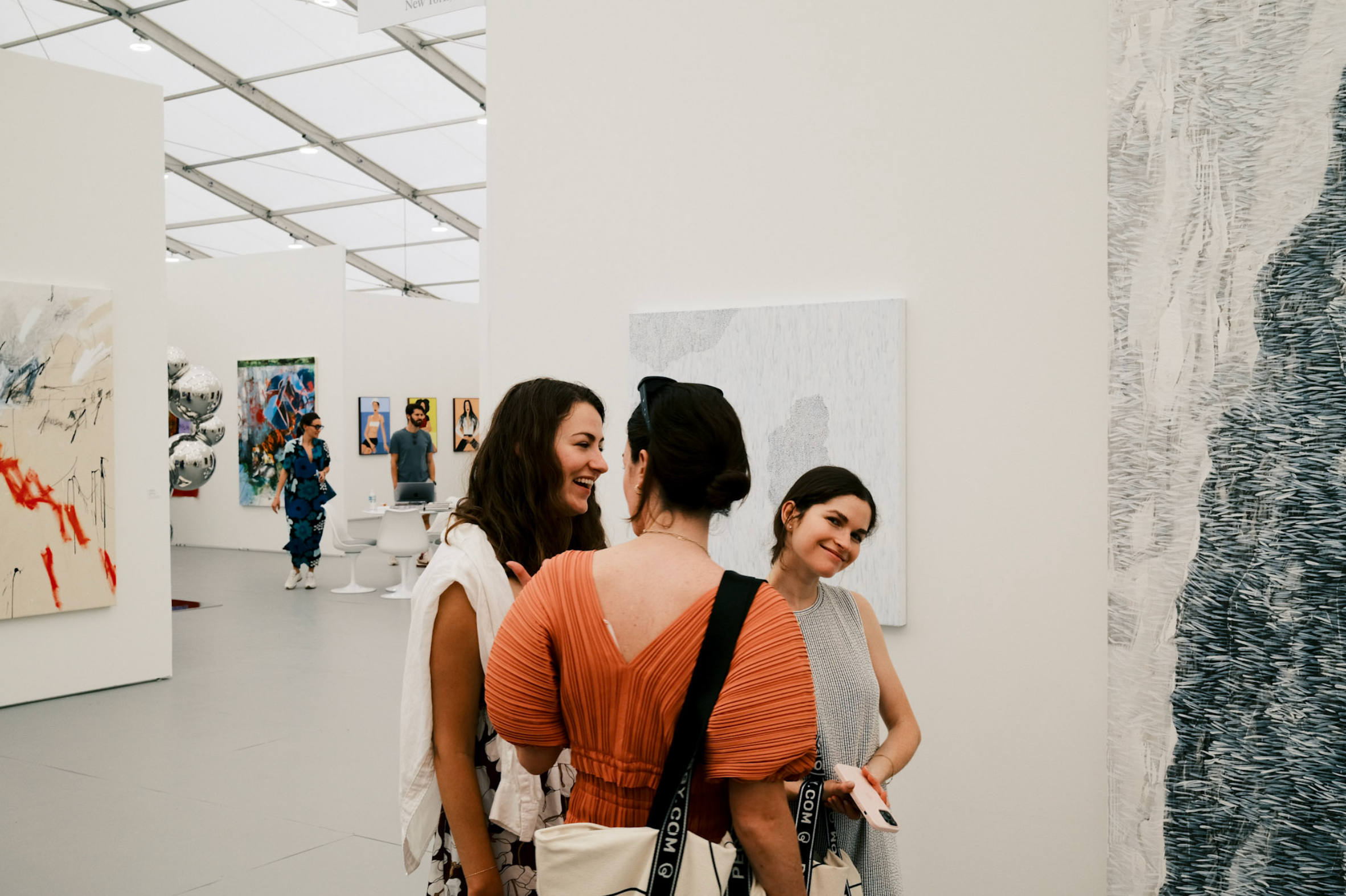 Art Basel Miami Beach kicked off in 2002 and has grown to encompass much more than just an art fair – from celebrity sightings to extravagant parties, the first week of December in Miami is no longer just about the art, making Art Basel a household name. Before the mega fair became known for its parties and celebrities, it was primarily an intimate trade show for connoisseurs and enthusiasts, founded in 1970 by a group of gallerists in the small town of Basel, Switzerland. Today, the fair has editions in Miami, Hong Kong, Paris, and virtually.
Beyond the Art Basel fairs, many other art fairs play a critical role in the art ecosystem. For example, while Art Basel initiated the art fair presence in Miami, up to 70+ additional fairs can occur simultaneously in Miami. Each fair has a specific mandate or focus based on medium, credibility or genre.
Most art fairs also have an invitation system or a vetting committee to instill an element of quality control. This attracts collectors seeking out a certain calibre of art and re-confirms that the exhibitors will present a level of quality.
At Peggy, we are passionate about emerging and mid-career contemporary artists and their galleries, and several fairs focus on just that sweet spot!
---
How contemporary art fairs came to be
In the Renaissance era, European cities were the epicentres of art and culture. The squares and marketplaces of cities like Florence and Venice teemed with artists displaying their creations, hoping to catch the eye of a potential patron or an art enthusiast. While these were not art fairs in today's sense, they were certainly precursors, representing the combination of commerce, culture, and creativity.
The start of the modern art fair can be traced back to the 19th century. The 1855 Exposition Universelle in Paris was a significant milestone. This event, though more extensive in scope than a mere art fair, showcased art from various nations, cementing Paris's position as the world's art capital. These expositions set the stage for specialized events focused solely on art.
The mid-20th century marked a pivotal moment in the art fair chronology. The advent of the Kunstmarkt Köln in 1967 in Cologne, Germany is often hailed as the first official contemporary art fair. Its primary objective was to create a platform for galleries to present their artists to a broader audience, making art more accessible to the masses. The model was a resounding success, laying the foundation for future fairs and setting a precedent for the art world.
This success spurred the emergence of what is now one of the most renowned art fairs in the world, Art Basel, inaugurated in 1970. Originating in Basel, Switzerland, the fair soon expanded its horizons to Miami and Hong Kong, reflecting the global nature of contemporary art. Art Basel became a space where modern masterpieces converged with cutting-edge contemporary works, mirroring the evolution of the art world itself.
Fast forward to the present day, and art fairs have proliferated across the globe. From Frieze in London to TEFAF in Maastricht, these events are no longer just sales platforms but are cultural events in their own right. They offer a space for discourse, collaboration, and exchanging ideas, blurring the lines between the commercial and the conceptual.
Art fairs are not just commercial enterprises. They are a testament to humanity's enduring love affair with art. They have evolved, adapted, and grown, much like the art they champion.
---
The top art fairs to know about:
NADA, Miami, United States
The New Art Dealers Alliance (NADA) is a non-profit arts organization dedicated to cultivating, supporting, and advancing new voices in contemporary art.
The organization has come to hold one of the most interesting art fairs for young gallery members – taking place in Miami alongside Art Basel in December and Frieze in May in New York City. NADA has also hosted a fair in Chicago and many pop-up exhibitions, talks, tours and workshops around the United States.
Liste, Basel, Switzerland
Taking place during the same week as the original Art Basel in Switzerland, Liste is the playful younger sibling who focuses on newer galleries. Liste provides a platform for upcoming galleries and their artist, who may be more emerging or more geographically diverse than those in more established-focused fairs.
Liste provides a platform for around 80 international galleries in Basel, annually.
Felix, Los Angeles, United States
Founded in 2019, Felix is the youngest fair in the bunch. A collector and two art dealers founded the fair to provide a cost-effective, fair alternative for mid-level contemporary galleries. Inside the Hollywood Roosevelt Hotel, visitors can envision living with art not usually so evident in other fairs where galleries exhibit in simple white cube-like booths. At Felix, art is displayed over hotel beds, desks, and poolside cabanas.
Felix's unique location and careful vetting aim to create an intimate experience prioritizing connoisseurship, collaboration, and community.
Independent, New York, United States
A gallerist also founded Independent, which focuses primarily on creating context for art. It caters to more academically minded collectors and institutions.
The art on display ranges from more established artists to outsider art to design in the hopes of presenting a comprehensive reflection of the art community. The galleries present in less defined booth spaces, making the space more free-flowing than other commercial fairs.
Independent also partnered with the city of Brussels to present fair editions and a performative festival complemented by commissioned projects. They also recently launched Independent 20th Century, focusing on works created between 1900-1999.
Frieze, Seoul, Korea
Frieze Art Fair was founded in 2003 by the editorial team of the well-respected Frieze magazine and has since evolved into one of the world's largest contemporary art fairs. The fair focuses exclusively on contemporary art galleries presenting living artists. However, the organization also directly commissions artists for the duration of the events.
Frieze's other presentations occur in New York, Los Angeles, and London. Frieze has also launched another fair, titled Frieze Masters, focusing on presenting contemporary art alongside old masters.
ZONAMACO, Mexico City, Mexico
ZONAMACO is the largest art fair in Latin America. It was founded in 2002 and celebrates Mexican and international contemporary art in an incomparable context. Works on view range from modern to contemporary, presented by 180 international galleries.
Similarly to Art Basel and other blue chip fairs, the success of ZONAMACO has inspired the creation of two other important satellite art fairs, Material Art Fair, which has a focus on cutting-edge work from a diverse group of international galleries, and Salón Acme, which aims to promote young talents.